Registrar of Fairfield-Suisun School
The Adult School welcomes all persons ages 18 years and older to enroll in classes. View our current class schedule for a list of classes.
Please bring a California photo I.D as proof of identity when enrolling in classes.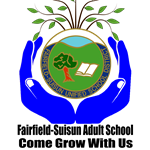 Rosalba Elias, Registrar
Fairfield-Suisun Adult School
900 Travis Blvd., Fairfield, CA 94533
Phone: 707-205-3428
Fax: 707-421- 4158
Email to Email Rosalba Elias
Need to order transcripts?
Current students can stop by the Registrar or Counseling office to request a copy of their transcript.