FSUSD Instructional Programs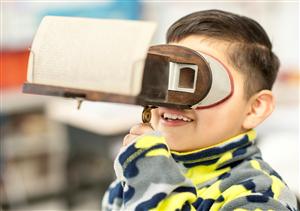 TK - 5 Dual Immersion (Spanish) Magnet program is offered at the Sullivan Language Immersion Academy. It is an academically based program where Spanish is used as a vehicle of instruction. Dual language programs foster bilingualism and biliteracy so that students are able to speak, read and write in two languages.
Armijo Multimedia Academy is offered at Armijo High School. It is a Multimedia program containing industry standard hardware and software to prepare students as digital content creators.
The Early College High School program in partnership with Solano Community College, is a lucrative program where students complete their high school classes and college classes on the Solano College Campus. Students who enroll in Early College have full access to all college programs, including French, German, Spanish, and Latin American courses and a wide array of STEM courses.
The International Baccalaureate program at Armijo High school is one of a kind here in Solano County. It aims to develop inquiring, knowledgeable, and caring young people who help to create a better and more peaceful world through intercultural understanding and respect. This program is a great option for the most academically elite students as the curriculum includes advanced science and mathematics requirements!
The Gate Program also known as the Gifted & Talented Education Program, provides a rigorous and challenging learning experience which includes ongoing opportunities for critical and creative thinking, problem solving, and questioning.
Advanced Placement Program allows students the chance to accomplish college level work while still attending high school This allows them to better prepare for college coursework, putting them ahead of the game.
FSUSD is home to seven thematic K-8 schools:
Dan O. Root Health and Wellness Academy is on a mission to ensure every student has successful experiences by promoting intellectual, emotional, and social development.
David Weir K-8 Preparatory Academy whose motto is "No Excuses University", has a core belief that every student has the right to be educated in a way that prepares them for college.
Oakbrook Academy of the Arts whose main focus is on providing a creative community where students are valued and challenged to become high-achieving and empathetic global citizens.
Sheldon Academy of Innovative Learning is a place where students are empowered to take part in social innovation. They learn how to take charge of their own learning through innovative practices and language development while becoming active learners in their community.
Suisun Valley K-8 has a vision that includes a belief that all students can and will learn at high levels of achievement, through a standards-based program integrating the art and science of agriculture, environmental sciences, and technology.
Sullivan Language Immersion Academy (TK-5) - Sullivan Language Immersion Academy serves students in grades TK-5 and is home to the Dual Immersion Program, a program that is academically based where Spanish is used as a vehicle of instruction.
Tolenas Academy of Music & Media (TK-7)
FSUSD offers two SPECIALTY SCHOOLS that have a CTE thematic focus and garner amazing support from the local community!