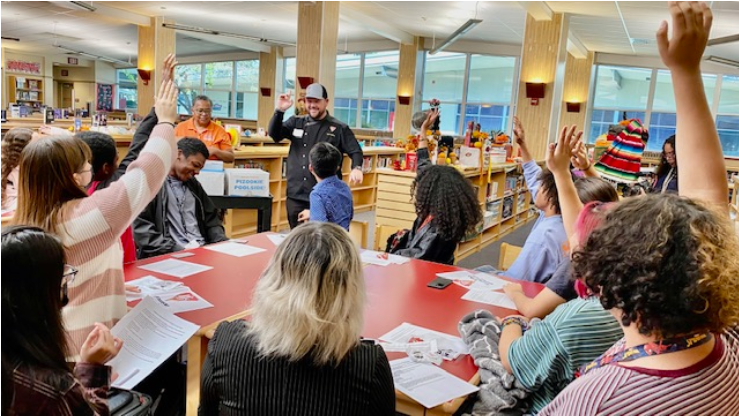 Fairfield, CA - On Wednesday, October 26, 2022, Fairfield High School culinary program hosted a FIT-DAY presentation sponsored by the California Restaurant Association. Students and staff were inspired by community leaders who shared personal stories as to how they got started in the industry. These leaders also discussed the various career paths that brought them to their current roles. Students were taught job readiness skills, team building, and soft skills all of which are fundamental to success in the real world of work.
The guest speakers were well-informed and eager to connect with students. Kirk Gallick, Director and Store Lead at Raleys on Travis Boulevard in Fairfield, spent 19 years with Raley's company. Kirk said he still loves the community where he grew up and is always excited to give back to this community. Shawn Easton, another presenter, is the Director of Operations for all BJ's Restaurants and has spent 24 years working for an industry of which he is very passionate. Students also heard from Noel Gillespiethe, the Associate Director of Economics Development Programs in San Francisco. She specializes in providing support to underserved populations. She is inspired by this work and finds it extremely rewarding.
The students were highly engaged in the presentations and enjoyed the opportunity to hear from a variety of professionals. Following the presentations, students participated in smaller group activities. Exposing students to professionals in various fields provides them with an opportunity to explore their personal interests and learn about the many career paths available to them.
###